The Old Fork is OPEN FOR INDOOR AND OUTDOOR SERVICE. In addition to our safe and socially distant indoor tables, we have a Courtyard Garden Patio that is a peaceful sanctuary conveniently located just off the highway, and quietly insulated from the outside world. Newly installed canopy and gazebos are outfitted with infrared thermal heaters and twinkley lights for optimal dining pleasure. 
We are proud to be a part of the food & beverage industry as a leader in health and safety for our community. 
Thanksgiving at The Old Fork

Our Thanksgiving Dinner Menu has a full turkey dinner with all the fixings!
Chef Vezina is proud to serve this menu on Sunday October 10 and Monday October 11 starting at 3:00pm
Reservations recommended, make yours today: 250-748-4311

Food Menu

The Food Menu is the same in both The Old Fork and River Rock Bar + Grill
Don't forget the Little Forkers menu and Activity Page!

Drink Menus

River Rock · Drink Menu – temporarily unavailable
Due to different licenses, The Old Fork and River Rock have similar but separate drink menus

Daily Specials

We are excited to be offering Daily Specials in both The Old Fork and River Rock
Food Specials are available for dine-in only and start at 11am 
Drink Specials are available ALL DAY! 

Delivery – Feastify! (menu prices increased for delivery charges)
Take-Out – available from 2pm to 7:30pm – temporarily closed Tuesday & Wednesday

please phone 250-748-4311 to place your order
We are very excited to be able to welcome you back to the locally famous "hidden gem" of Duncan, The Old Fork. We pride ourselves in making incredible meals from scratch with quality ingredients and providing service that is forking amazing!
Cousin to The Old Fork and a piece of history, the River Rock Bar+ Grill is located in the former home of Henry Ashdown Green built over 120 years ago. Now a bright and modern pub the River Rock is a local gathering place to enjoy delicious food and ice cold drinks. When accompanied by a legal guardian, minors are allowed to enjoy the River Rock experience.
Both The Old Fork and River Rock can be entered through the Lobby of the Ramada Duncan.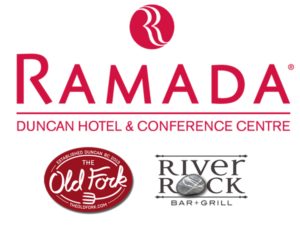 COVID Safety
We want you to know that the health of our staff and our guests are our highest priority. We are meticulously following safe food handling practices and remaining compliant with Provincial Health Officer guidelines. Our team will be following safety protocols initiated by WorksafeBC to ensure our guests and community remain healthy and safe. 
*Please pay attention to signage as you arrive. More information on the safety protocols can be found upon arrival.
We are very proud of our team for the effort and diligence they use when performing the extra tasks needed during these difficult times, but we would like to thank you for your patronage and support!